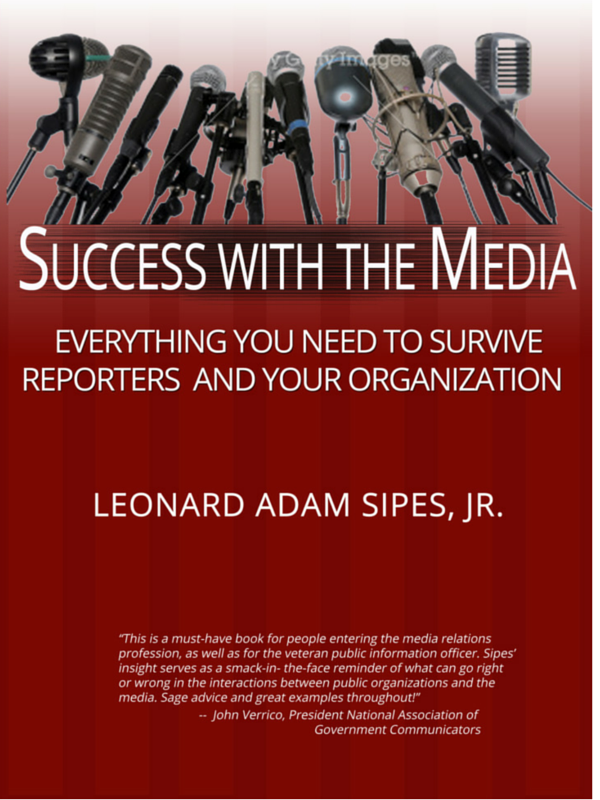 Subtitle
Marketing:"It's your job to make the story come alive."
"Success With the Media"
I wrote, "Success With the Media, Everything You Need to Survive Reporters and Your Organization" (available at Barnes and Noble and Amazon at https://amzn.com/151948965X) because I believe that organizations need to look inward to get better media results.
I use contents from the book for this article.
Some believe that we should not talk to reporters. I maintain that not talking leaves you without influence; you are committing yourself to a negative story. The trick is to know how to talk to the media.
Author
Leonard Adam Sipes, Jr.
Thirty-five years of supervising award-winning media relations, radio and television; over fifty national and regional awards. Interviewed multiple times by every national news outlet. Post-Master's Certificate of Advanced Study, Johns Hopkins University.
Article
"It's your job to make the story come alive."
Up to this point, we've focused on media relations strategies that involve reacting to requests or events and personal survival skills. Now it's time for an entirely different perspective.
In the Introduction, I said, "The most important aspect of taking a long-range view is building relationships. We cannot succeed unless we build meaningful and productive interactions with the media and the public. Everything we are and all we can be must be built on trust." I tried to convey the need to create relationships throughout my book, but marketing takes public interactions to a different level.
Marketing may be one of the most important things you can do to keep your organization safe and goal-oriented. Constant self-initiated contact with reporters and the larger community sends a message—we're ready for discussion; we're ready to engage; we're not afraid of our issues.
Media interviews work within the context of knowledge and trust. You cannot do a good job responding to media inquiries if the media know little or nothing about you. To do well, you have to market. Many on the receiving end of constant negative media inquiries are the opposite. They never engage. They never invite the public in for a dialogue. They give the impression that they have something to hide. To survive, news organizations need to see you as honorable people doing an honorable job.
To do well, you have to market. Many on the receiving end of constant negative media inquiries are the opposite. They never engage. They never invite the public in for a dialogue. They give the impression that they have something to hide. To survive, news organizations need to see you as honorable people doing an honorable job.
Knowing How to Advertise
Corporations and a few nonprofits know how to market. Marketing and sales are the lifeblood of their existence. All of these organizations know exactly what they want from their marketing plan and are prepared to pay for it. They purchase the latest demographic and economic research to decide the location of their business or branch office. They understand their local, regional, or national markets. Extensive survey research will be employed to understand their customers better. Focus groups will be used after survey research to fine-tune their messages. Products will be test marketed in certain areas in unique ways to ascertain consumer preferences. They will crunch massive amounts of data and analyze everything. Ever wonder why your store gives you a discount to sign up for their club card? They want to know as much as possible about you, your neighbors, your community and your spending habits.
Advertising agencies will suggest segmented strategies to reach particular groups. Sales executives and marketing specialists will gather with experts from advertising agencies to establish which of a variety of strategies is having the greatest effect. Information will be gathered from individuals purchasing goods and services. Social media efforts will be analyzed. All of this will be well documented with easy-to-read descriptive statistics.
Senior representatives from sales and marketing will gather with their counterparts from the advertising agency and produce an endless array of pie charts and histograms. Their overriding communication objectives and descriptive statistics will be mounted on professionally done poster boards and loaded into an intriguing PowerPoint presentation which will be used to brief senior executives. Millions of dollars will be committed to a specific plan employing precise timetables.
Sales and demographic data will be gathered and analyzed at key points in the campaign to establish progress. The corporation and their marketing experts will be savvy enough to establish what's working and what's not. Changes will be made as necessary; messages will be fine-tuned, and the organization will have the resources to make mid-course corrections. The business will know exactly what it wants to accomplish and will do what is necessary to succeed.
For organizations that live and die with this process, they ensure that it is done properly. Without marketing, without sales, and without understanding their customer base, they cease to exist. Variations on that theme apply equally to us all.
So the Gods of Advertising Rule?
So the gods of advertising rule? Not necessarily. They are very good what they do. We are very good at interacting with the media. The interesting part is that some of the best of corporations, regardless of their marketing expertise, will fold like Nervous Nellies when they find themselves on the receiving end of relentless negative media inquiries. There is a huge difference between marketing, advertising, and media relations.
You can be a whiz at focus groups, or a fantastic and creative writer, but none of this means a hill of beans if you do not know how to talk to reporters. An aggressive, hard-nosed reporter who has done his or her homework is not impressed by the fact that you purchase millions of dollars in advertising. It may make the "chase" that much more interesting.
The tragedy is that all of your efforts and all the money spent to understand and entice customers may completely disappear (along with your company) if the reporter possesses significant negative news and you mishandle the process. All the advertising in the world will not overcome scandalous front-page newspaper articles in media throughout the country.
Marketing: A Clear Understanding
The major difference between you and everyone else is that you have a very clear understanding of what marketing means. You know exactly what you're capable of doing and what's realistic. Your leadership (hopefully) also understands this. You cannot do everything that professional advertisers do because of budget. But you can accomplish your objectives. The rest of this chapter will show you how.
What Professional Marketers Do
Professional marketers are very good at accomplishing the following tasks. They:
Know how to set precise objectives.
Will not allow clients to be unrealistic about what they're trying to accomplish.
Will work within allotted budgets to get the biggest bang for their client's money.
Understand that there is a huge difference between the public's ability to: (1) recognize the product or person or policy; (2) feel favorably about what is being promoted, and most important of all, (3) take the specified action desired. They know that it might take different methods to accomplish each of these goals.
Understand that there is a world of difference between a weekend campaign to sell cars in one location and a multi-month effort to establish a favorable image for a national product.
Know exactly what they want the public to do. They communicate this clearly and succulently. They embrace brevity.
Study targeted, segmented audiences to ascertain what marketers need to say or do to get the public to take specific actions.
Find or hire the best people for the job. They know that some individuals are best at understanding the needs of children while others are experts in reaching adults.
Come to very firm conclusions about the best methods for reaching their intended audience. Options include radio, television, or newspaper ads. Other possibilities include direct mail marketing, telemarketing, billboards, fliers delivered directly to the home, e-mail, Internet ads, social media, or creating events that draw mainstream media or trade publications.
Will use a variety of techniques at different times and in different ways to accomplish their goals.
Understand that they may have to "hit" their audience several times in different ways (i.e., TV, radio, social media) within a specific period to be successful. Some preach three times in three ways within one month.
Will hire the best "creatives." Photographers, writers, and illustrators are all part of the mix. They will hire production companies with competent directors to create effective (often funny) radio and television ads or video press releases. Regardless of the medium, these ads will be interesting, amusing, or visually compelling. They will grab the consumers' interest and make them pay attention.
Measure their target audiences multiple times to see if their message is effective.
Understand that multiple midcourse corrections are necessary to fine-tune their message.
Conduct research on groups that both comply with or ignore their message.
Study vast data sets bought or collected through legitimate means.
Produce a variety of easy-to-understand descriptive statistics so that decision makers and funders can make the best possible decisions.
Come to very firm conclusions about the success or lack of success of efforts and provide options for improving marketing efforts in the future.
Understand that timing means everything. Successful campaigns during good economic times may change significantly due to economic downturns.
Will do all of this over and over until they have the right mix of strategies to produce the desired effects.
Understanding Our Limits
Public affairs professionals (and hopefully their executives) are good at understanding the following limitations. They:
Understand that they are limited in their ability to reach a segmented audience with a specific message. I didn't say it was impossible, just challenging.
Acknowledge that without money, marketing plans are somewhat useless. Putting it on paper doesn't make it happen. True marketing plans are well-funded entities with the resources to accomplish goals within precise timetables.
Recognize that they cannot control the flow of media efforts thus they will not be hitting their target audience three times in three different ways during a specific time period.
Know that they are limited in producing measurable results that indicate progress or lack of progress.
Understand that marketing is a function that will take place almost entirely in-house. Their research and their creative team will draw from resources at hand or on the Internet. This will be a time-consuming process.
Are successful in advising executives about the limits of marketing with limited resources. Some executives and others can be clueless about the organization's ability to market effectively without a significant infusion of funds. Sometimes, executives need to be "brought back to earth" with regard to what is possible without spending significant sums of money.
Are very aware that marketing efforts, regardless of how successful they are, are limited in their ability to change public opinion or to get the public to accomplish a specific task. They understand that measurable changes in public attitudes come as a result of sustained advertising efforts. That takes money. Without funds, marketing efforts, regardless of how creative, may be capable of only limited results.Next UpMore on building relationships and marketing.

Success With the MediaFor more information on good organizational and media relations, see "Success With The Media: Everything You Need To Survive Reporters and Your Organization," available from Barnes and Noble and Amazon at https://amzn.com/151948965X.  Your reviews are appreciated.

See my website at http://leonardsipes.com.

Contact me at leonardsipes@gmail.com.