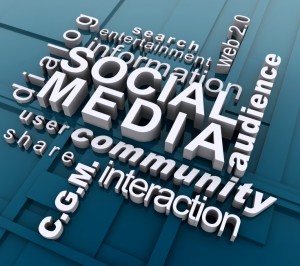 At what point does social media become a distraction?
You're going to be confused with my use of the infographic below; it shows the booming use of social media within the collegiate world.  For that demographic  (younger people) social media is a great tool.
But a variety of data indicate that social media is "not" the primary method for communicating with most people and it's rather silly to believe that it is.
Research from Pew indicates that most people still get their local news from traditional sources (local television and newspapers). Social media skews younger and female so if your target audience is principally middle-age males, your use of social will have real limits. Most corporations still rely on paid adds in very traditional media, e-mail and their website presence as primary mechanisms to reach out and engage.
Please don't get me wrong. I love social media and every entity needs to develop a social media presence. Social "is" the future of  serving customers.
But we are in the communications business and it all depends on who you're trying to reach and what you hope to accomplish.  For many organizations their marketing budget is nonexistent thus social (and a website) may be the only game in town.
But if you're Ford your savvy social platform is something to be proud of; "but" 90 percent of your outreach is something that marketers 30 years ago will recognize and embrace.
For social the name of the game is content creation; blogs articles, audio, video, polls, surveys and services remain necessary components to make it work; all have deep roots in traditional marketing.  Facebook and Twitter alone (the most popular platforms via a variety of surveys) will not get the job done.
My only point is that the fascination with social is misplaced for many organizations; there are better ways of communicating.
There are more effective methods of serving customers.
Best, Len.
If you like this article, please comment, share or follow. Thanks!!!
 Daily summaries of social media and news media related articles are offered through my Facebook page at http://www.facebook.com/LeonardSipes or via the Facebook button on this site. Thanks!!!