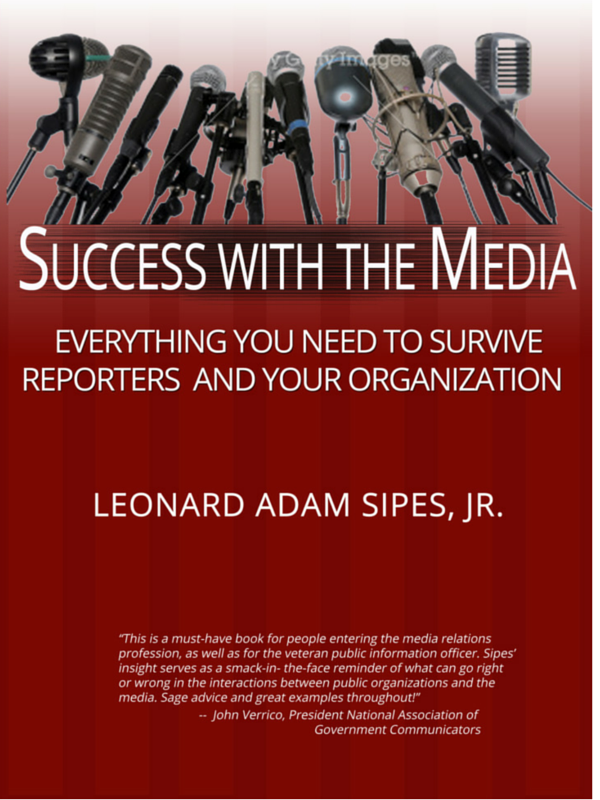 Subtitle
Marketing:"It's your job to make the story come alive."
"Success With the Media"
I wrote, "Success With the Media, Everything You Need to Survive Reporters and Your Organization" (available at Barnes and Noble and Amazon at https://amzn.com/151948965X) because I believe that organizations need to look inward to get better media results.
I use contents from the book for this article.
Some believe that we should not talk to reporters. I maintain that not talking leaves you without influence; you are committing yourself to a negative story. The trick is to know how to talk to the media.
Author
Leonard Adam Sipes, Jr.
Thirty-five years of supervising award-winning media relations, radio and television; over fifty national and regional awards. Interviewed multiple times by every national news outlet. Post-Master's Certificate of Advanced Study, Johns Hopkins University.
Article
"It's your job to make the story come alive."
Up to this point, we've focused on media relations strategies that involve reacting to requests or events and personal survival skills. Now it's time for an entirely different perspective.
In the Introduction, I said, "The most important aspect of taking a long-range view is building relationships. We cannot succeed unless we build meaningful and productive interactions with the media and the public. Everything we are and all we can be must be built on trust." I tried to convey the need to create relationships throughout my book, but marketing takes public interactions to a different level.
Marketing may be one of the most important things you can do to keep your organization safe and goal-oriented. Constant self-initiated contact with reporters and the larger community sends a message—we're ready for discussion; we're ready to engage; we're not afraid of our issues.
Media interviews work within the context of knowledge and trust. You cannot do a good job responding to media inquiries if the media know little or nothing about you. To do well, you have to market. Many on the receiving end of constant negative media inquiries are the opposite. They never engage. They never invite the public in for a dialogue. They give the impression that they have something to hide. To survive, news organizations need to see you as honorable people doing an honorable job.
We've discussed in earlier chapters that style is sometimes as important as substance and nowhere is this truer than in marketing. We have exciting tools in websites, content creation, social media platforms, e-mail, and traditional outreach efforts.
In every product I create I have a vision of who I'm talking to; reporters are always part of that mental picture. Having an image about who you're trying to reach is a critical marketing tip.
This Is Confusing
Some will be a bit confused by my contention that marketing is integral to good media relations. Yes, the vast majority of my promotional efforts were done to achieve operational objectives. I didn't market solely to "grease the skids" for better media relations. I promoted the "McGruff-Take a Bite Out of Crime" media campaign because I wanted to save people from criminal victimization, not as a strategy to advance the U.S. Department of Justice.
I took the skills I learned through the McGruff campaign and applied them to statewide efforts to combat burglary, carjacking, criminal offenders with warrants voluntarily turning themselves in to authorities, and auto theft (all with very positive results). I promoted anti-crime summits for two Governors and a Lieutenant Governor.
In past and present agencies, I've engaged millions of people through social media and self-produced radio and television programs, story-based articles and fact sheets. I want people to understand my agency's and larger issues. I responded to thousands of people through written or verbal conversations about what we do and how we do it. I replied to every inquiry, sometimes spending long nights on the phone to add a needed personal touch. When I volunteer to work with associations and nonprofits, I understand that their missions are essential to promote the well being of our society. I help because I want to contribute.
I responded to thousands of people through written or verbal conversations about what we do and how we do it. I replied to every inquiry, sometimes spending long nights on the phone to add a needed personal touch. When I volunteer to work with associations and nonprofits, I understand that their missions are essential to promote the well being of our society. I help because I want to contribute.
I also understand that when I'm successful at marketing, I'm creating an environment that makes it easier for people to understand the agencies I represent. The media and public see us as honorable people doing an honorable job. There isn't a reporter in the markets I represent who does not make that connection.
An Interesting Dichotomy
So we have an interesting dichotomy. Spokespeople know how to talk to the media. We know what to do when the chips are down. We know how to handle the Smoke Blowers. We know how to take a hit. We understand that our job is to contain negative news while conveying the fact that we are honorable people doing an honest job.
On the other hand, marketers and those in advertising have an excellent understanding of image. They are experts in establishing rationales to produce the public's acceptance of their products and services. They know how to get people to like you and your organization.
The bottom line is that we have much to teach each other, but we rarely do. Media relations and advertising are two distinct branches of the same field. None of us would ask our pediatricians to treat our elderly parents. Then why do we expect marketers to handle an angry mob of reporters or expect spokespeople to market with the accuracy and efficiency of advertisers?
The advantage, however, is that we can learn from each other. Public affairs specialists can successfully market their organizations with little money if they understand what they're doing and why.
Do You Want Positive Media?
Powerful marketing efforts are possible and doable within the framework of limited time and money. We have to have an honest discussion about the realities of promotions, but I remain committed to the fact that success is achievable.
Bureaucracies are often machines that suck the lifeblood out of every creative person. Lawyers always say no. Finance is always challenging your efforts to spend a small amount of money. Your executives can be clueless about what's achievable. Products are never approved without heartbreaking changes and delays. Completed work sits on the shelf, never to see the light of day.
The ultimate lesson for executives: If you make the process of promotions difficult, clumsy or harsh, staff won't engage. Promotions are risk taking endeavors that cause bureaucrats to pause. Uncertainty and bureaucracies never mix well. Bureaucracies and executives need to be honest with themselves. Do you want or need positive engagement? Then give your public affairs people the chance to be creative and experiment.
In the marketing world, there are few certainties. It calls for ingenuity and an open mind. More importantly, it involves leadership being supportive and at times getting the heck out of the way. If not, staff aren't going to engage. Their creative juices will dry up. They will do as little as possible because they don't see how it profits them.
The day before I edited this chapter, I spoke at the Digital Government Institute conference at the Ronald Reagan Building in downtown Washington, D.C. I delivered the exact same message. Staff people were appreciative and said that they were inspired by my remarks. Executives were far less enthusiastic.
We All Complain
Every public affairs official or corporate executive will complain of a lack of positive media. Your new and revolutionary product that engineering has spent years developing produces little coverage. Major policy initiatives that are both innovative and gutsy seem to draw barbs rather than praise. Your organization's significant charitable contribution goes unnoticed. A great human-interest story about your employee produces little attention. All of us can provide endless examples of good stories that seem to go nowhere. After a variety of failed efforts to market the positive side of your organization, some decide that it's not worth the effort.
Marketing is doubly difficult because it's done in the context of a busy organization with a heavy public affairs workload. Sometimes it seems that reactive media or preparation for hard news takes every available minute. At times, the job is so intense and your interaction with top executives so frequent that it's difficult to voluntarily ask for additional duties. Effective marketing is hard work. An aggressive public relations plan can be a real pain to implement.
There Are No Guarantees
I have tried to emphasize the simplicity of many aspects of media relations. The most difficult part of marketing your organization is a willingness to try. The problem is that many in your organization do not see the value in proactive efforts. Many believe that no news is good news. If they agree to proactive efforts, they want guaranteed results.
We all want certainty, but in this business, there are no promises. If you proactively market through established news organizations then you assume a certain level of risk.
Whoops
One downfall to marketing is that much that we promote becomes a double-edged sword, which means that some stories can work for or against you.
We invited media to a prison after a series of problems to demonstrate special units as a public relations gesture. Because of its visual nature, television crews and photographers were in attendance. One of the displays involved a K-9 demonstration. Everything was going fine until a large German Shepherd broke free of its handler and ran about 15 feet towards a reporter. An Associated Press photographer saw what was happening and started to raise his camera.
Horrified that the dog was aggressive, the handler ordered him to halt. He did; there was no contact between the dog and his intended meal. The dog sheepishly returned to the side of the correctional officer while I contemplated a photograph that probably would have run worldwide.
Even the best of intentions have a way of backfiring.
Next Up
More on Building Relationships and Marketing.
Success With the Media
For more information on good organizational and media relations, see "Success With The Media: Everything You Need To Survive Reporters and Your Organization," available from Barnes and Noble and Amazon at https://amzn.com/151948965X.  Your reviews are appreciated.
See my website at http://leonardsipes.com.
Contact me at leonardsipes@gmail.com.