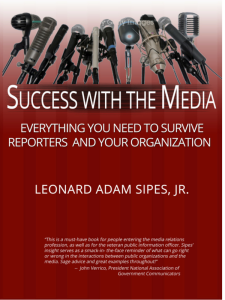 Subtitles
Do the wrong people influence media decisions?
Is it possible to manage media responsibilities for complex organizations?
The larger the decision-making committee, the greater the potential for problems.
Is managing public affairs for any complex organization like "herding cats?"
Author
Leonard A. Sipes, Jr.
Thirty-five years of award-winning media relations, over fifty national and regional awards.
Please share, but all rights reserved.
Success With the Media
I wrote, "Success With the Media, Everything You Need to Survive Reporters and Your Organization" (available at Amazon at https://amzn.com/151948965X) because I believe that organizations need to look inward to get better media results. This modified article is an excerpt from the book.
Article
There are times when media relations is the ultimate challenge of diplomacy, tact, and skill. One of my principal concerns when I work with organizations is that many get it wrong. They make inappropriate media decisions during times of high stress, and they do it often. I am amazed when very caring, educated, and experienced senior managers make bad decisions. So let's start with a discussion about who influences media decisions.
Who Influences Media Decisions?
People who decide what to say to the media have a wide variety of backgrounds. They range from senior executives to personnel and technical experts to attorneys, managers from the home office, and individuals designated to talk to the media. So when I say that many individuals who make media-related decisions get it wrong, I'm referring to everyone in the decision-making process.
The larger the decision-making committee, the greater the potential for problems.
What is so important about the lines of communication? For some organizations, it means little. They do not have the burden of representing a policy or mission that is difficult or unpopular.Their infrequent media requests are directed to day-to-day operations, and they often do not face immediate deadline pressures. They have the luxury of time and consultation with all concerned.
But for most, having established understandings about who makes media decisions under normal or difficult circumstances can be a lifesaver.
For those who need the comfort of endless discussion and consensus of many stakeholders, God be with you.
The organizations I am addressing are the ones that simply do not have the time. Speed is not only necessary; it is crucial to their survival. To survive with speed, you have to have a plan. You have to know your organization, its data and people. You have to be ready at a moment's notice.
The Complexity of my Organizations
I was the Director of Public Information for the Maryland Department of Public Safety, a state law enforcement and correctional department, a $900 million, 12,000-employee operation encompassing 13 agencies and 8 boards and commissions, operating in over 100 locations throughout the state. The department focused mainly on correctional issues such as a variety of prison systems, as well as parole and community supervision matters plus law enforcement agencies. We supervised 150,000 criminal offenders and cases every day.
I worked with seven full-time public information officers and one hundred volunteer PIOs (public information officers). The volunteers had other full-time departmental jobs but occasionally spoke to the media.
We handled approximately 8,000 media "contacts" every year. The Washington D.C.-Baltimore, Maryland media market is one of the largest in the country and contained some of the most experienced and aggressive reporters.
At the time I began writing this article for my book, I had been with the agency as director for 14 years, which was a record for state public information service. We did up to $4 million dollars a year in proactive marketing (per a regional advertising agency).
I previously served as a Senior Information Specialist and Director of Information Services for 10 years for two agencies in the Washington D.C. area funded by the U.S. Department of Justice. As the former senior spokesperson and social media manager for a federal agency in Washington, D.C., I pioneered the use of radio and television shows (podcasts) and social media thus becoming a leader in proactive public affairs efforts.
Why Share my Background?
I share this with you to demonstrate the complexity of my organizations and functions. When you toss in political considerations, advocacy organizations, unions, and others, it becomes virtually impossible to "manage" media responsibilities.
Although my title was Director of Public Information for Maryland's largest agency, it was misleading. The bottom line behind that job (and probably yours) is that a wide variety of players had either influence or the final word about what is said to the media, and how it is said. Each of the 13 agency heads desired the final say in media relations for his or her own agency.
The Department's senior executive, the Secretary of Public Safety, and those on his staff also wanted the final word. To make the situation even more interesting, there were many who often (and eagerly) provided input, regardless of whether it was relevant or desired.
In my conversations with most public affairs professionals, I find that the circumstances described above holds true for them as well. One veteran spokesperson told me that managing public affairs for any complex organization was like "herding cats."
Most of us have endless layers of bureaucracies and connected individuals. It doesn't matter if you're representing a multinational corporation or a local hospital, a public utility or a government organization, the process is essentially the same: a cumbersome bureaucracy and a difficult decision-making process.
The issue becomes a quest to make the organization manageable.
Who is God?
The bottom line for all of us in the public affairs field is first to figure out who influences media-related decisions and to keep that number to a minimum. I refer to this as, "Who is God, and what does God have to say?" Obviously, there are others who will also have input, but it's critical to keep this number to a minimum to "manage" the media process.
Many will desire to influence your decisions. Knowing who will give you your final instructions and limiting your "gods" to a manageable number will save your sanity. It will provide you with the best shot at properly handling a situation.
If you doubt that you need to have one central person in charge, try to imagine yourself handling media at a plane crash, during a prison riot, or while you are evacuating a city due to an approaching hurricane (I've participated in all three). Lives and the general or corporate welfare can depend on both accuracy and speed.
Handling tough questions or circumstances does not mean that you do not ask for advice from "connected" others. Yes, attorneys have to be consulted. Personnel will want input. You keep important individuals "advised." But if you include everyone in the process, you will never make appropriate decisions.
There are times when you will need to respond immediately. It is crucial to understand that you need to anticipate the requests you are likely to receive; thus the good public affairs specialist will already know the proper legal and technical advice. That's why public affairs specialists want to know everything about their organization all the time.
Getting Information
One of the best qualities of spokespeople is an insatiable curiosity. They are constantly asking questions about the organization and getting the right answers before a newsworthy event takes place. For example, large numbers of automobile tire failures, major oil spills, or defective or malfunctioning parts suspected to have caused a plane crash would be difficult to research during full-blown emergencies.
Getting crucial information during a major event (especially during evenings or weekends) can be extremely difficult. You need to have information well ahead of time, so you will be ready when reporters come. Remember, if the media do not get their information from you, they will get it from someone else. Getting it from someone else could prove very costly.
When Can the Spokesperson Decide?
A second essential ingredient in successful public affairs is to know when you (as the primary spokesperson) can make decisions on your own without consulting others beyond the senior executive or an on-scene commander. Sometimes circumstances dictate risk and speed. Sometimes, you will have no choice but to respond.
There will also be times when you make instantaneous decisions on your own. For example, you could be at the podium doing a briefing and a reporter asks about a social media rumor (i.e., the local dam is about to break due to flooding, threatening thousands of people). If you are aware of the allegations, and you've vetted them and you know they are untrue, you need to respond immediately. Consequently, you could have firm plans for the media briefing and reporters collectively ask about issues you have no knowledge of. It seems pointless and divisive to drive an agenda they are not interested in. You forgo your planned presentation, access their questions, and promise a response.
Shooting Fish in a Barrel
Members of the media realized a long time ago that organizations can be easily picked apart. It's not that difficult to do. The function or establishment you represent does not matter. Many organizations are terrible at handling or responding to new and aggressive media inquiries.
There are plenty of businesses that have done nothing wrong but are incapable of defending themselves. Their response is woefully slow and inadequate. They give the media (and everyone else) the impression that they have something to hide.
Their lack of response allows detractors (every organization has them) to speak endlessly and often. Social media blows up and politicians chime in looking to score points with the media and the public.
Next article-examples of bureaucracies making media decisions.
For more information on good organizational and media relations, see "Success With The Media: Everything You Need To Survive Reporters and Your Organization," available from Amazon at https://amzn.com/151948965X
See my website at http://leonardsipes.com for the entire series.
Contact me at leonardsipes@gmail.com.