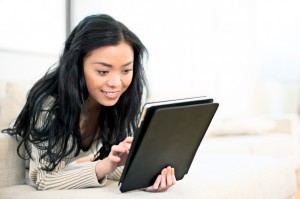 Http://LeonardSipes.Com and Http://MyLifeAudio.Com
Why anyone would prefer mobile devices over a nice big screen and full keyboard for important tasks or content creation is beyond my comprehension.
I gave my wife my iPad; it's big, bulky and I would rather read and create on a real keyboard and nice-sized screen.
But that's not how the world sees digital consumption. We've known for years that there are a variety of Asian nations where mobile is the mode of choice for accessing the internet and communicating.
The Asian experience makes sense; I love my iPod Touch for being a pocket sized lightweight wonder that delivers my podcasts and provides me with everything I need in transit.
Yep-I sound confused (do I love mobile or not?) and I think many of us go back and forth as to the type and size of our devices.
But regardless of my confusion, the use of mobile is increasing rapidly.
Pre research, Use of Mobile is Increasing:
Per the research below, mobile use is increasing. The question is whether we as content producers are ready.
Per the Research, Many Sites Offer Struggle with Mobile:
The bottom-line is that if our sites are not mobile enhanced, we will lose an increasing amount of business to those who are.
Data below form Marketing Charts:
1 in 2 Smartphone and Tablet Owners Say They Prefer Them to PCs For Web Access
A survey of adult smartphone and tablet owners by Prosper Mobile Insights  has found that 35% prefer to access the internet via a smartphone and 14% via a tablet, meaning that only a bare majority still prefer to use their desktop or laptop computer.
In fact, a slight majority of male respondents prefer to access the internet via a smartphone (36.9%) or tablet (14.9%).
Females lean a little more heavily towards the desktop or laptop, as fewer prefer to rely on their smartphones (32.7%).
Asked which of 3 statements best describes their smartphone use, just 7% of respondents overall said they use it for basic functions, such as calling, texting, or emailing.
For what it's worth, those 3 activities account for 55% of daily time spent using a smartphone, per recent data from Experian Marketing Services. Most survey respondents indicate that they use all their smartphone's functions.
 Source: http://www.marketingcharts.com/wp/interactive/1-in-2-smartphone-and-tablet-owners-say-they-prefer-them-to-pcs-for-web-access-29942/?utm_campaign=newsletter&utm_source=mc&utm_medium=textlink
Lack of Optimization Discourages Tablet Shoppers
A recent survey from Kentico Software revealed that many smartphone and tablet owners won't return to websites not optimized for their devices.
New data from TheFind shows another side to this problem.  The survey of tablet owners found that among those who say their tablet is not their preferred device for shopping online, a leading 40% said that's because they feel retailers' tablet applications and sites don't offer the same experience as their standard websites.
The next most common answer? That the checkout process isn't always optimized on tablet devices, cited by 35%.
Problems with optimized sites and experiences were more commonly cited than beliefs that product pictures are too small (29%) or concerns about entering payment information (28%).
Overall, lack of optimization of retailer websites and apps counts as the biggest pet peeve for 49% of tablet shoppers.
Source: http://www.marketingcharts.com/wp/interactive/lack-of-optimization-discourages-tablet-shoppers-29951/?utm_campaign=newsletter&utm_source=mc&utm_medium=textlink
Best, Len.
If you like this article, please comment, share or follow. Facebook Page at http://www.facebook.com/LeonardSipes