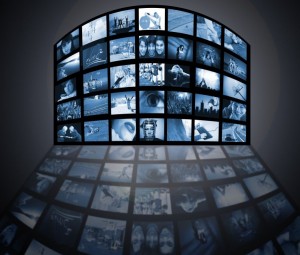 There are thousands of channels on internet television that remind me of the early days of blogging; many choices waiting for an audience to show up.
I have a Roku box  and stream internet television (less than $100.00-see http://www.roku.com/ ). The better channels (Netflicks and Amazon) are subscription based.
The exploration:
The exploration started when Blubrry ( http://www.blubrry.com/ ) started streaming my television and radio shows. I was, quite frankly, startled to find an immense array of topics via Blubrry; it took me hours to view them all.
Beyond Blubrry, the "Channels" section of the Roku box contained additional programming  ranging from comedy to tech to religion to hobbies to a channel for dogs (not kidding).
I'm told that there are additional channels waiting to be advertised by Roku.
There's More:
YouTube now offers the ability to create your own channel and according to those who know (via Blog World-renamed New Media Expo)  it's easy to create one.
Apple TV and other devices offer services similar to Ruko.
While the real battle is for recent movies and network television programs, that's not going to happen soon (sorry Apple and Google). The lack of new programs opens the playing field to content creators like me.
It's in its Infancy:
Experts from Blubrry at New Media Expo tell me that internet television's numbers are small but growing.
But it's obvious by the number of participants that many believe in the platform.
Many (most?) successful social media-blogging sites got in early. I'm in via Blubrry.
Something  you should consider.
Best, Len.
For Blog World-New Media Expo, see http://www.blogworld.com/
As to internet television, Wikipedia is a good place to begin your examination at http://en.wikipedia.org/wiki/Internet_television .
Another is http://makeinternettv.org/ .
If you like this article, please comment, share or follow. Thanks!!!
 Social media and news media articles offered through my Facebook page at http://www.facebook.com/LeonardSipes or via the Facebook button on this site. Thanks!!!