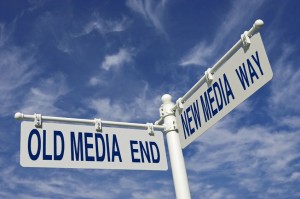 Http://LeonardSipes.Com and Http://MyLifeAudio.Com
A colleague from the past called me to announce her return from Europe and the fact that she was looking for work. She's a former television news anchor with years of top-notch writing experience.
She's a very good communicator.
But she surprised me by confessing that she was not "up to speed" on social media. The use of Facebook and additional social sites were confusing.
She knows that I have many years of social media experience and asked what she should do.
My response startled her. "You have little to worry about," I said. "At the moment, social is only a small part of an effective communication platform. You have all the skills you need to effectively compete in today's communications market."   I then suggested some reading material and websites to get her caught up on what social media is.
What social media is:
There's no doubt that social media is a necessary component for good communication. Ask any of hundreds of companies and organizations slammed in social if a good grasp of the subject is necessary.
It's a key tool during emergencies and tough times.
For many small organizations, social media and a strong website presence plus e-mail are the only affordable communications options.  They can live and die on social and electronic communications
I believe that social media is "the" communications forum of the future.  The overwhelming percentage of internet users engage in social per Pew Internet. It cannot be ignored.
What social media is not:
There are endless communication options ranging from traditional old-school ads on radio, television and newspapers. Websites and e-mail lists are essential.
But if you take a look at communication budgets from people who measure results, the overwhelming percent (two-thirds) of ad campaign budgets continue to flow to strategies that the characters in "Mad Men" would embrace.
Social media is not the best tactic for getting people to "do" things.
Social is best for branding, raising awareness and for quickly getting the word out or respond to problems.
 Examples:
"CMOs (Chief Marketing Officers) say that social media currently accounts for 8.4% of their marketing budgets, but that social's share of the pie will jump to 11.5% over the next 12 months, and climb all the way to 21.6% share in the next 5 years, according findings from Duke University's Fuqua School of Business, which just released its latest CMO Survey. The forecast may be over-aggressive, though: last year, CMOs predicted that social would grab 10.8% share of budgets by this point, with the reported share this year (8.4%) about 20% below that mark. "
Source: http://www.marketingcharts.com/wp/direct/cmos-bullish-about-social-media-spending-27300/?utm_campaign=newsletter&utm_source=mc&utm_medium=textlink
Even at the personal level, social media has issues:
"Even the most frequent social networkers are divided on whether these online communities are a positive force in society. More than half of respondents (53%) use social networking at least once a week. Among this group, about one in two (48%) feel that social networking makes no positive impact on how individuals interact with each other in society. A surprisingly large number (44%) also feel that social networking has not helped them strengthen relationships with family and friends."
Source: https://www.bulldogreporter.com/dailydog/article/social-media-living-its-promise-connection-americans-are-torn-practicing-good-habit
But possibly the most convincing piece of recent research is directed to those masters of all things digital, teenagers:
"They may be digital natives, but American teens don't fancy everything digital. According to data provided to MarketingCharts from a new study from Research Now and K&A BrandResearch, American teens strongly favor offline over online ads across a variety of measures.
The respondents were presented with several statements about ads and asked whether each statement applied more to online ads (such as on Facebook, search engines), more to "real-life" ads (such as those on the TV, radio, posters, and magazines), or whether the statement didn't apply. The results indicate that online ads have a long way to go in winning over teens. In terms of likability, offline ads were easily preferred by respondents."
Source:  http://www.marketingcharts.com/wp/direct/american-teens-prefer-offline-to-online-ads-27284/?utm_campaign=newsletter&utm_source=mc&utm_medium=textlink
Summary:
If you think that social media is not worth the investment then you should have your head examined.  As said earlier, social media will be "the" communications platform of the future.
But you need to understand that it's not "the" communications platform of today. It's evolving and it's going to be a wild ride.
I look forward to the journey.
Best, Len.
If you like this article, please comment, share or follow. Facebook Page at http://www.facebook.com/LeonardSipes
Additional research:
http://leonardsipes.com/the-impact-of-social-media-per-research/
http://leonardsipes.com/we-dont-understand-social-media/