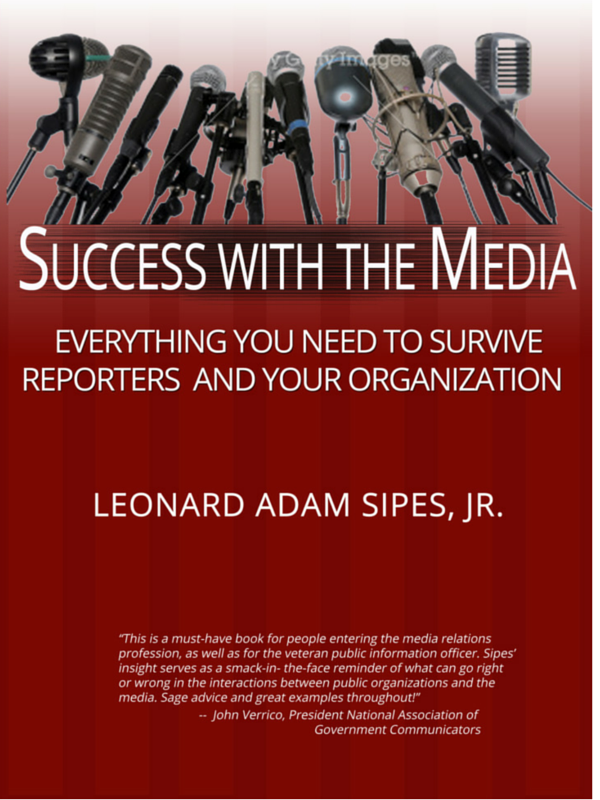 Subtitles:
Do policy makers and the public have a good understanding of issues through current news coverage?
Bureaucracies and the media view each other with suspicion and dread.
The lack of mutual cooperation and respect creates inadequate news.
Author
Leonard A. Sipes, Jr.
Thirty-five years of supervising award-winning media relations, over fifty national and regional awards. Author of, "Success With the Media."
Article
I wrote, "Success With the Media, Everything You Need to Survive Reporters and Your Organization," (available at Barnes and Noble and Amazon at https://amzn.com/151948965X) because I believe that organizations need to look inward to get better media results. They need to examine their strategies, training, and resources. They need to examine their relationship with the media and evaluate potential public relations difficulties.
Beyond media relations, there is the larger question as to the efficacy of news coverage and whether it serves the public good. Those in public relations seek to protect and advocate for their organizations, but a larger goal of public service builds trust and serves everyone. This can only be accomplished by taking a long-range view and fairly accommodating the needs of reporters.
There are two themes to this article, one is improving our ability to deliver good media relations and the other is building public trust through better news coverage. I believe that spokespeople have a higher calling than simply representing our organizations. I believe that public trust and accurate news articles serve all of us.
People ask my reasons for writing "Success." There are many; talking points are explained below:
Trust of Media and Institutions
The book is a result hundreds of conversations with spokespeople and reporters.
The public is not well served by the current state of news coverage.
My fundamental question, "Do policy makers and the public have a good understanding of issues through current news coverage?" My answer is no, and the breakdown is a byproduct of inadequate reporting and a lack of openness on the part of institutions.
Bureaucracies and the media view each other with suspicion and dread.
This lack of mutual cooperation and respect creates inadequate reporting and hampers quality news coverage.
Per Gallup, four in 10 Americans say they have "a great deal" or "a fair amount" of trust and confidence in the mass media to report the news fully, accurately and fairly. This ties the historical lows set in 2014 and 2012.
Per Pew, the public's trust in the federal government continues to be at historically low levels. Only 19% of Americans today say they can trust the government in Washington to do what is right "just about always" (3%) or "most of the time" (16%).
Per Gallup, Americans' confidence in most major U.S. institutions remains below the historical average for each one. Only the military (72%) and small business (67%) — the highest-rated institutions in this year's poll — are currently rated higher than their historical norms, based on the percentage expressing "a great deal" or "quite a lot" of confidence in the institution.
While trust is based on an array of issues, frustration with the media and most institutions is making operations for both difficult.
Quite simply, I believe that American's feel misinformed by the media and all institutions.
Informative Media Coverage Used to be the Norm
During my 35-year career in media relations, I had the leeway necessary to make decisions about news coverage most of the time. It was my responsibility. I prospered or died based on news coverage that was deemed fair and impartial by the people I worked for. Few expected favorable coverage all the time. Most simply wanted even-handed treatment from news organizations.
There used to be beat reporters who knew everything about the subject matter. They knew their stuff.
It seems that for most beats except for technology or business or sports, that era has passed.
Spokespeople and beat reporters coproduced knowledgeable and informed articles. They trusted each other. They spoke openly and frequently. They filled in each other's blanks.
There are Reasons for Inadequate News Coverage
Are we having inherently dishonest conversations that produce misleading news reports?
There are reasons for the lack of substantiative media coverage.
It's now very difficult to have honest conversations about public issues. There are many within bureaucracies who dislike reporters. Where reporters were once embraced as a daily reality, they are now kept at a distance. If we within institutions refuse to communicate openly,  media coverage suffers. Articles and reports are less than adequate. Public trust erodes.
Mutual mistrust is making media interactions difficult to painful.
There are Two Main Reasons for the Current State of News Coverage.
There are two main reasons for the current state of news coverage.
First is the decrease in the number of reporters. Quite simply, the media no longer has the power it once did. Some (many?) within institutions see this as an opportunity to take control of the process.
The American Society of News Editors found its first double-digit decline in newsroom count since the Great Recession of seven years ago. Newsroom jobs dropped 10.4 percent — down to 32,900 full-time journalists in 2014. At its top, newsroom employment hit 56,900 in 1990. There are media sources reporting cuts of up to 30 (or more) percent in some newsrooms.
The second reason is that spokespeople do not have the training, tools or institutional support to guide them through a productive media relations process.
To Get Great News Coverage
There are four basic points as to getting great news coverage:
Great articles and reports are based on trust between reporters and spokespeople.
Great media coverage is based on reporters and spokespeople coproducing reports.
There is a lack of training, courses and materials to guide spokespeople.
There needs to be a return to beat reporting.
Most media training and materials do not deal with our realities:
Example-little to no training as to off the record conversations.
Example-organization dysfunction-spokespeople have to battle internal politics just to answer the simplest of questions.
Example-the mistrust organizations have when contacted by the media. Mistrust will never be solved until media and organizational representatives come together to explore both problems and solutions.
What Needs to Happen for Media Coverage to Improve?
More reporters covering beats.
Advanced, comprehensive training for spokespeople that go way beyond the basics.
Organizational support for open and frank conversations with reporters.
An agreement between all parties as to what needs to happen and why.
For more information on good organizational and media relations, see "Success With The Media: Everything You Need To Survive Reporters and Your Organization," available from Barnes and Noble and Amazon at https://amzn.com/151948965X.  Your reviews are appreciated.
See my website at http://leonardsipes.com for the entire series.
Contact me at leonardsipes@gmail.com.